MY INSPIRATION
Ansel Adams famously said - "You don't take a photograph, you make it."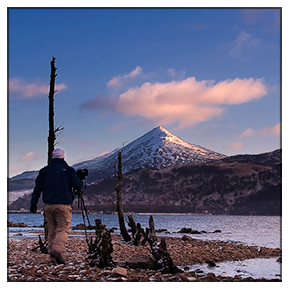 This is a quote that became my inspiration over the years and is also something I can closely relate to. There is so much more to landscape photography than just releasing the shutter. For me personally it is an adventure, a journey of discovery and an experience. Whether battling adverse weather, traversing hills and mountains, braving the waves, planning to execution, it all adds to the visual story-telling that is photography.
MY LIFE
I live in the beautiful county of Northumberland with my wife, a Labrador-Cocker cross and 3 Norwegian Forest Cats!
I try to devote as much time as possible travelling and discovering new locations. Whilst my passion is landscape photography I do enjoy diversifying now and then, one my other passions is cars so I like nothing more than combining the two whenever I can.
MY EQUIPMENT
Over the years my work has been taken with various high end cameras, primarily the Nikon D700 and D800. More recently however with the FujiFilm X-T4 and XT-2.
Generally I just shoot with 2 main lenses, these being a 24-70mm and 70-200mm (or CSC equivalents), I also use a 16-35mm wide angle on occasions.
Finally, thanks for stopping by...
Best regards, Graeme